Meet the TMAS members #2: Coloreel
What if it was possible to combine an instantaneous thread colouring unit with an embroidery machine, and to operate the two together at high speeds, without changing the thread or the needle?
This was the question Joakim Staberg, founder of Coloreel, one of the newest companies to join TMAS – the Swedish textile machinery association – asked himself over a decade ago. The answer turned out to be that it was indeed possible, but it took many years of hard work and development to prove this was the case. However, at its launch at the Texprocess show in Frankfurt in 2017, the by then heavily-patented Coloreel technology was an instant success and has been building momentum with world-leading companies in textiles, fashion and sportswear ever since.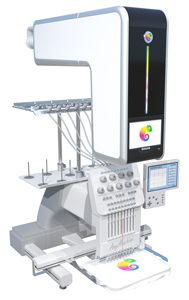 In November 2018, Staberg received the SEK 500,000 SKAPA prize – Sweden's most prestigious innovation award, established in memory of the famous inventor Alfred Nobel – for the realisation of Coloreel.
"Coloreel revolutionises the technological possibilities for industrial embroidery, shows great innovation spirit and that the Swedish textile industry is at the forefront," said Minoo Akhtarzand, Chairman of the SKAPA Foundation, on presenting the prize.
Benefits
So what is so special about Coloreel technology?
Firstly, based on a CMYK ink system, Coloreel's advanced rapid colour formulation software and high-speed drive technology allows a single needle to carry out what previously required many multiples of them, and with much more consistent stitch quality.
Secondly, existing thread dyeing plants can only colour thread in a single solid colour. By instantly colouring a white base thread during production, Coloreel enables complete freedom to create unique embroideries without any limitations in the use of colours. Colour changes along the thread can either be made rapidly from one solid colour to another, or gradually, to make smooth transitions or any colouring effect desired.
A third important benefit is that the Coloreel colouring unit enables the high-quality and instant colouring of the textile thread – while it is actually being used in production.
As further benefits, Coloreel can be used with any existing embroidery machine without modification while also making it possible to produce gradients in an embroidery for the first time.
This all adds up to a significant reduction in wasted inks, while  minimising water usage, and increasing production speeds. The technology allows set-up and lead times to be reduced as well as significant flexibility in production schedules, while eliminating the need for large thread inventories.
With fewer trims required for colour changes, the Coloreel unit can also reduce the total production time required for complex designs by up to 80%, as well as instant reaction to the specific colour requirements of customers.
"Our system is allowing customers to achieve colour effects that have never been seen before – and at a new level of efficiency," says VP Sales and Marketing at Coloreel, Mats Sjögren. "We are setting the new benchmark for the embroidery industry."
"Sweden has consistently ranked highly in the annual Bloomberg Innovation Index of countries, in 2020 coming fifth behind only Germany, South Korea, Singapore and Switzerland," says TMAS Secretary General Therese Premler-Andersson. "Big Swedish companies such as IKEA and HM are pushing for sustainable production methods and materials and this ensures we at TMAS are constantly on our toes to stay on top with innovation. Coloreel's technology is a perfect example of this."