Textile technology, automation and production processes
The individual members of TMAS are each in the forefront of our own specific segment, with a long successful history and a passion for textile manufacturing. We pool our resources together or work individually depending on your specific challenges and needs to provide you with the most effective customized solutions possible.


ACG Nyström AB
We offer solutions within cutting, sewing, embroidery, garment printing and product life management for textile products. The product range extends from the simplest needle to large complex machines for industry. The company often has a unique role as the link between the world's leading equipment manufacturers and customers in the important development process.
Show

more

less

Baldwin Jimek AB
Baldwin Technology Company Inc. is a leading global manufacturer and supplier of innovative process-automation equipment, parts, service and consumables for the printing, packaging, textile, plastic film extrusion and corrugated industries. As a total solutions provider, Baldwin offers our customers a broad range of market-leading technologies, with a focus on improving the economic and environmental efficiency of production processes.
Through a global footprint of 21 company-owned locations and an extensive network of partners, our customers are supported globally, regionally and locally by dedicated sales and service team members who add value by forming long-term relationships. Baldwin is privately owned by BW Forsyth Partners, a Barry-Wehmiller company.
Show

more

less

Coloreel
Coloreel is a Swedish technology innovation company within the textile industry. The company has developed the Coloreel technology, a ground-breaking innovation that enables high-quality coloring of textile thread on demand, opening amazing new design possibilities.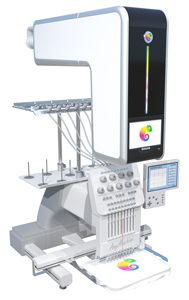 Coloreel's first product based on the technology is a thread coloring unit which is created to be used with industrial embroidery machines. In the future, the technology can also be used for sewing, knitting, weaving and more.
Show

more

less
Eltex of Sweden AB
Eltex is a leading company in weft and yarn supervision. The core activity is to develop yarn break sensors and tension monitors together with OEM customers. Close cooperation between Eltex and the machine makers is essential for the business. This is the basis for the market leading position the company has today. Knowledge of yarn break detection and tension monitoring, combined with the machine makers know-how ensures that the sensors have the highest performance and quality.
Show

more

less


ES Automatex Solution AB
We specialize in automated machines for the home textile industry. We promote new machines from our partner Automatex Inc. in Canada for this industry segment. Today, we can offer solutions from full-scale production to small specialized production. We also trade with refurbished automatic sewing machines from AKAB of Sweden AB. This offers full flexibility regarding customer requests and requirements, tailored to their investment budget.
Show

more

less


Eton Systems AB
Eton Systems globally provides material handling systems consisting of individually addressable product carriers, automatically finding its way to the correct operation. The systems are designed to eliminate manual transportation and minimize handling, radically increasing the time for adding value to customer's products. Eton Systems is the innovator and world's leading supplier of the Unit Production System (UPS), a productivity and management system developed specifically for use in the apparel, home textile and light product industries.
Show

more

less

imogo AB
imogo is an innovation company with focus on sustainable textile dyeing. imogo's FlexDyer® is a unique concept that drastically reduces water, chemistry and energy use in the dyeing process. All imogo's products are designed to reduce the environmental footprint of the textile industry and make good business sense by providing a very favourable ROI.
Show

more

less
Kinna Automatic AB
We are a leading manufacturer of textile machinery for fully automated production lines for quilts, pillows and bed sets. From fabrics to finished packed product. The company's goal is to increase profits for our customer through machines and production lines that make the process more efficient and to simplify the daily work for our customers. ACG Kinna Automatic offers a wide range of tailor made machinery and production lines, mainly for the home textile industry, worldwide.
Show

more

less

Svegea of Sweden AB
Svegea offers the most complete line of Collarette cutters, Slitting machines and Bias Cutting range. The machines are world renowned for their ability to produce the highest quality trim at top speeds. The Svegea product range provides solutions for all knits, t-shirts, children's wear, bias/ waistband and home textile manufacturers.
Show

more

less

Texo AB
TEXO is one of the world´s leading manufacturers of weaving looms for production of Paper Machine Clothing and Industrial Technical Fabrics. More than two thirds of the looms for the paper industry have been supplied by TEXO. The company also provides customers with rebuilds and retrofits of existing looms, which helps them increase productivity and meet their quality demands. TEXO operates on the global market with offices in Europe, Asia-Pacific & the Americas.
Show

more

less