Coloreel is a Swedish textile innovation brand with a groundbreaking technology for embroidery that enables high-quality coloring of textile thread on demand, unlocking a world of potential.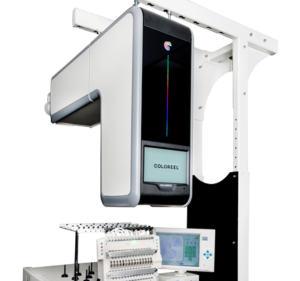 We use our technology to both preserve the craftsmanship of embroidery and take embroidery to the next level. The unique solution makes previously complicated designs accessible, including gradients, textures and other stunning effects. Using only a single thread and needle means that it also significantly improves quality and efficiency, enabling immediate start up and faster delivery. In short, Coloreel empowers creativity and enhances quality and efficiency, making the ordinary extraordinary. In the future, the technology can also be used for sewing, knitting, weaving and more.
Coloreel is also part of the movement to reduce waste and move the textile industry towards more sustainable production. By coloring the thread directly, there is no wastewater, hence no water pollution. And, using a single reel of thread and needle also means minimized thread waste and minimized microfiber pollution.
The result, of course, is embroidery at full potential.