Coloreel – Forerunner in the textile industry
TMAS is happy to welcome a new member - Coloreel! We met up with Magnus Hellström, VP Sales & Marketing at Coloreel.
Can you tell me about Coloreel, the company and your products and solutions?
Coloreel is a technology innovation company that has developed a technology that enables high-quality coloring of textile threads on demand, opening amazing new design possibilities and increased productivity. Coloreel's first product is a thread coloring unit, which is created to be used with industrial embroidery machines. In the future, the technology can be used for sewing, knitting, weaving and more.
Who are your customers? And which are your most important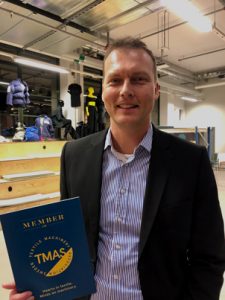 markets?
Our direct customers are our distributors that will handle the sales of the Coloreel unit for their respective markets. But in general, embroidery producers of various sizes are our primary customers.
We have also had deeper discussions with larger brands within sports, life style and fashion showing huge interest in our technology and unit. Our aim is that they will use more Coloreel embroideries in their production and influence the market.
We have secured distribution in Europe and soon the USA, which both are high-cost markets that are important for us when we roll out our Coloreel unit. The Asian market will be crucial when we ramp up and target multi-head embroidery machines.
How do you view the development of the textile industry? What challenges do you see in the future?
We want to be a forerunner in the textile industry that takes charge and leads the development. First, within embroidery and then to change other areas like knitting, weaving and sewing. In general, we see more and more new companies sprout and shake up the market and taking the industry to the next level. We want to grow alongside these fast-moving companies.
One of the biggest challenges we have in the industry is how to work more sustainable and create a product that makes less impact on the environment.
We are proud to be a part of transforming the textile industry toward the better, contributing to a more efficient use of resources. We constantly look for ways to improve ourselves, thereby continuously moving towards a sustainable future.
Why did you choose to join TMAS?
We want to increase awareness and spread the word that we are here to revolutionize the textile industry. Joining TMAS will help Coloreel to further market and network in the best arenas, both in Sweden and globally.
Read more about Coloreel here or at www.coloreel.com/