For just over ten years, the Swedish technology company Coloreel has developed a pioneering technology that enables high-quality digital dyeing of textile thread at the same time as it is used in production. The well-patented technology can be used for embroidery, sewing, knitting and weaving, and more. Now the TMAS member has raised SEK 100 million from Robur Ny Teknik to support the company's market expansion and future growth.
Henrik Nyblom, manager at Robur Ny Teknik, comments:
"Coloreel has a very innovative solution that I think can be very big in the future. The company's products speak to an increasingly environmentally conscious world and have fantastic sales opportunities in the coming years ."
Pioneering technology modernizes the textile industry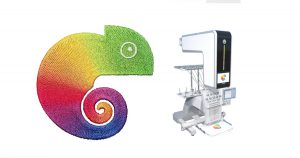 For a year now, Coloreel's first product, which is aimed at the embroidery industry, has been sold and marketed. This product gives the embroidery manufacturers a number of advantages such as improved logistics, zero set-up time when changing thread spools between each order, faster production, higher embroidery quality, no thread waste and above all a complete freedom in the use of colors.  The technology also provides major environmental benefits with greatly reduced water pollution and more efficient use of resources. This means great competitive advantages for all types of embroidery manufacturers.
Joakim Staberg, founder and main owner of Coloreel, comments:
"It is very fun that Robur Ny Teknik, one of Sweden's leading institutional investors in technology companies, wants to join us on the journey. It is further proof that we are on the right track ".
This is a excerpt from Coloreels pressrelease. Read the whole pressrelease at Coloreel.