Sustainable benefits with automated TMAS concepts
The ITMA 2023 textile machinery show held in Milan from June 8-14 was hugely successful for members of TMAS – the Swedish Textile Machinery Association – with significant new orders secured and a range of new initiatives announced.
"Just a week before the opening of ITMA 2023, the European Parliament voted for the full adoption of the EU Strategy for Sustainable and Circular Textiles," said TMAS secretary general Therese Premler-Andersson. "It was very clear in Milan that this is already galvanising the textile industry into new collaborations and there was huge interest in the sustainable benefits offered by the latest automated concepts of our members."
Press releases
related to ITMA 2023:
Take part of innovations from Sweden in more detail:
Participants at
ITMA 2023:
ACG Kinna Automatic, H9:C108
Baldwin Technology, H14:C205
Eltex of Sweden, H6:A210
ES Automatex Solution, H9:B108
Eton Systems, H9:B202
Imogo, H18:B105
Svegea of Sweden, H9:A101
Texo, H6:B301
Vandewiele Sweden, H10:B201d

Startup valley:
Papertale
TreeToTextile

Institutions & universities
RI.SE Research Institutes of Sweden H3:B310
Science Park Borås / The University of Borås, H3:B307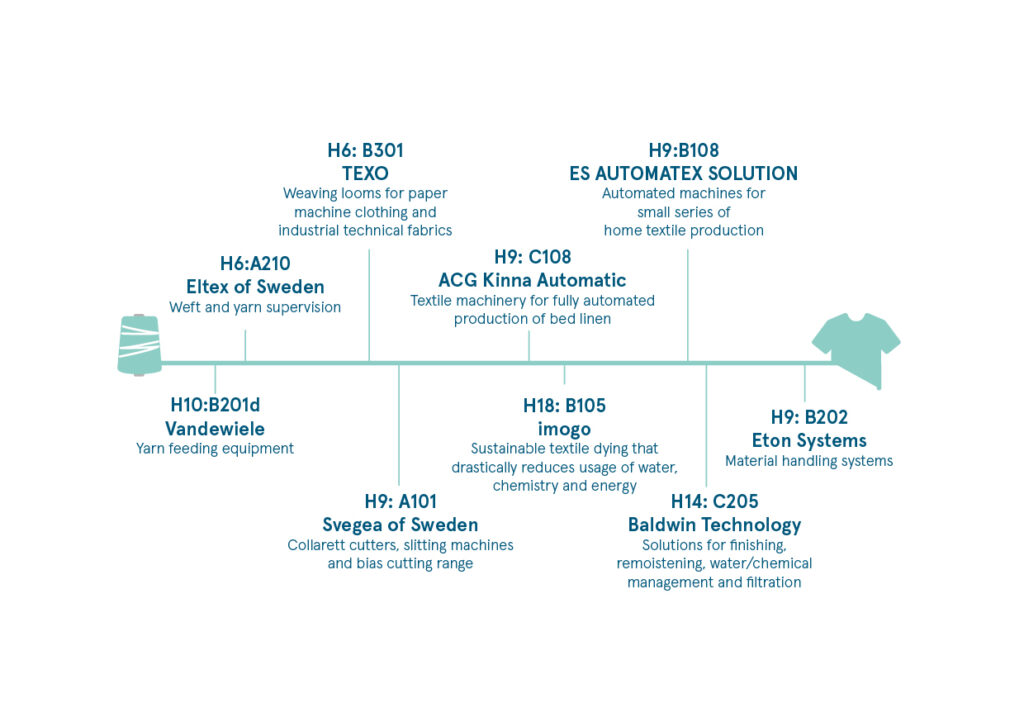 Swedish innovation working together.
From embroidery and the coloring of the thread to the automated handling of the product.